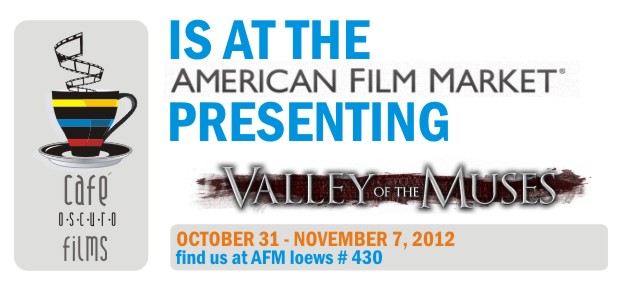 Cafe Oscuro Films will be part of the American Film Market!
From October 31st to November 7th, we'll be presenting our latest project of a feature film  in development called "Valley of The Muses"
See what this event in the film industry is all about:
From AmericanFilmMarket.com
More Than 10% Increase in Buyers Expected, Including 120 New Buying Companies
Industry Conversations FeaturingDirectors Sacha Gervasi and Victor Levin, "Harry Potter" Franchise Executive Producer Michael Barnathan, Producer Bonnie Curtis, Jonathan Silverman, Pamela Adlon and Many More Also Announced
The 2012 American Film Market (AFM®) will kick-off tomorrow with more than 120 new buying companies and a 10% increase in buyers, according to AFM Managing Director Jonathan Wolf.  Additionally, a significant number of high profile projects with top talent attached will also be unveiled for pre-sales at the market.
Wolf commented, "Independents – the industry's true entrepreneurs – are bringing the world a diverse and exciting array of films for 2013.  The 2,000 plus projects at AFM include films in every genre and budget, all destined for theaters and screens of every size around the world.  AFM is a marketplace for all – there is no gatekeeper."
AFM will screen 442 motion pictures, including 82 world premieres and 327 market premieres for thousands of film buyers and industry professionals from more than 70 countries over the eight-day event. Films premiering include the works of Annette Bening, Helena Bonham Carter, Chow Yun-Fat, Jennifer Connelly, Roman Coppola, Elle Fanning, James Franco, Christina Hendricks, Dustin Hoffman, Kate Hudson, Julianne Moore, Bill Murray, Gwyneth Paltrow, Mark Ruffalo, Philip Seymour Hoffman, Alexander Skarsgård, Juno Temple, Kristen Wiig and Elijah Wood, among many others. A complete list of films and the screening schedule is available at www.TheFilmCatalogue.com.
The 2012 Market also opens with national organizations exhibiting from Australia, Dominican Republic, Panama, Russia and Thailand making their AFM debut.
The American Film Market's Industry Conversations program will take place at the Loews Santa Monica Beach Hotel in the AFM Studio. The sessions present intimate, interactive and exclusive conversations spotlighting many of the film industry's prominent players, giving AFM attendees an opportunity to hear directly from key Hollywood and global players. This year's speakers include:
Friday, November 2, 2012:
·         BAFTA: A Conversation with Sacha Gervasi  
Director of Hitchcock – starring Anthony Hopkins, Helen Mirren and Scarlett JohanssonHosted by John Simon (BAFTA)
Time:        2:30-3:30PM
Saturday, November 3, 3012:
·         5 to 7– A Conversation with Bonnie Curtis and Victor Levin
In New York, an aspiring novelist has a cinq-a-sept affair with the beautiful wife of a French diplomat. Cultures, world views, personal ethics and dietary preferences clash as love deepens, with remarkable results. (The Solution Entertainment Group)
Time:        4:00-5:00PM
Sunday, November 4, 2012:
·         Conception– A Conversation with Josh Stolberg, Jonathan Silverman and Pamela Adlon
Conception is a clever, romantic comedy that proves it takes more than sex to make a baby. From a couple fighting the odds of fertility to young teenagers losing their virginity, the film follows nine very different couples on the night they conceive, showing that sex can sometimes be more neurotic than erotic. (Double Dutch International)
Time:        2:30-3:30PM
·         Doc Talk: One-on-One with Participant Media's Courtney Sexton and Filmmaker Eddie Schmidt(This Film is Not Yet Rated, Twist of Faith)
Time:        4:00-5:00PM
Monday, November 5, 2012:
·         Working with the U.S. Guilds with SAGIndie/DGA/WGAW
Hosted by Kevin Iwashina, Managing Partner, Preferred Content
Time:        2:30-3:30PM
·         IDA: The Doc Remake…A Conversation with Michael Barnathan and Sue Turley.  Hosted by Matt Holzman (KCRW's The Business).
Time:        4:00-5:00PM
For the full schedule, please visit www.AmericanFilmMarket.com/industry-conversations.
As previously announced, the AFM Conference Series gives attendees tremendous knowledge, insight, access, and a rare opportunity to hear from the industry's global thought leaders, prominent filmmakers, financiers and industry executives. The AFM Conference Series consists of a range of timely and valuable topics including a Finance Conference, Pitch Conference, Marketing Conference, Video-on-Demand Conference and Micro-Budget Conference. Akin Gump Strauss Hauer & Feld LLP and Entertainment Partners Financial Solutions will serve as the presenting sponsors.
The scheduled speakers include: Nigel Sinclair, Co-Chairman and CEO, Exclusive Media,  Tom Ortenberg, CEO, Open Road Films, Bahman Naraghi, Independent Film Producer and former COO of GK Films, Cassian Elwes, Independent Producer/ Agent, Alison Thompson, Co-President, Focus Features International, Charlotte Mickie, EVP, International Sales, Entertainment One, Bruce Eisen, Vice President, Online Content Development & Strategy,Dish Network, Jason Janego, Co-President, RADiUS-TWC, Todd Green, General Manger, Tribeca Film, Paul Hertzberg, President, CineTel Films, Roger Corman, President, New Horizon Picture Corp., Lloyd Kaufman, President, Troma Entertainment, Jonathan Schwartz, Producer, Super Crispy Entertainment, Nobody Walks, Like Crazy, Douchebag, Liza Foreman, Film Reporter, The Wrap, Tatiana Kelly, Producer, Sunset Stories, The Words, Wristcutters: A Love Story  and Ry Russo-Young, Writer/Director, Nobody Walks, You Won't Miss Me. For more information about conferences, please visit www.AmericanFilmMarket.com/conferences.
Download the 2012 AFM poster art athttp://www.americanfilmmarket.com/sites/www.americanfilmmarket.com/files/AFM2012_Poster.jpg.
About the AFM
The business of independent motion picture production and distribution reaches its peak every year at the American Film Market, Oct. 31 – Nov. 7, 2012.  The global film industry converges in Santa Monica for eight days of deal-making on films in every stage of development and production, as well as screenings, conferences, networking and parties.
With 8,000 industry leaders from more than 70 countries, 700 screenings and the industry's largest Conference Series, AFM is the pivotal destination for independent filmmakers, directors, distributors, financiers, industry executives, producers, talent, writers, the international media and all those who provide services to the worldwide motion picture industry.
The AFM is produced by the Independent Film & Television Alliance®, the global trade association of the independent motion picture and television industry and the voice and advocate for the Independents worldwide.  Visitwww.AmericanFilmMarket.comand www.IFTA-online.orgfor more information.
About The Film Catalogue
Available in nine languages, The Film Catalogue lists more than 6,000 recent motion pictures and projects, making it the world's most extensive online resource for producers, distributors and buyers. The Film Catalogue's advanced search tools allow users to browse or search for films by language, production status, year of completion, budget, director, cast, company, title and genre. Users can also track changes to the catalogue by searching new updates within the past day, week, month or quarter. The site operates year-round and includes market line-ups at AFM, EFM, Filmart and Cannes.